| | | |
| --- | --- | --- |
| | | |
---
Bob's performances are known for their power and willingness to address issues in a non-confrontational style. His engaging stage presence allows his audiences to feel comfortable looking at situations that they might not otherwise spend time with. This has made him popular in many different environments, from school staff meetings to concert stages.
---
Bob Reid presents an engaging performance of songs and stories, using voice and guitar, with the themes of self esteem, differing perspectives, ecology, personal responsibility, hunger and others. The goals of Bobís performance are to use music and storytelling to communicate ideas, values, and perspectives, to promote awareness and build community, and to encourage students to participate in the world around them.
Students will experience a broad emotional range. He will include songs written by students in classroom workshops as well as personal stories that illustrate values and encourage students to acknowledge their own stories.
Bob's performance is 45 to 60 minutes long.

So that Bob can deliver the best performance to your students, it is important that they are broken into appropriate age/grade groups (eg. K-2 or 3, 3-5, 4-6).

Bob will provide his own sound system.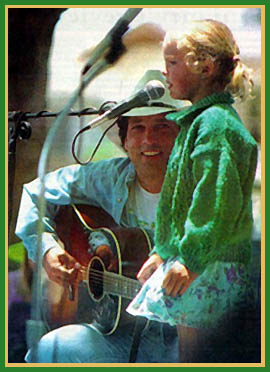 ---

Many people have come to our school, but very few have measured up to such high standards. For 120 fifth- and sixth-grade students to sit still on the floor and be completely involved in your program for over an hour is a real tribute to you and your ability.

I just wish more children could see your presentation. You have a very rare gift and I certainly hope others will be able to benefit from it in the future.
-Mary Ann Clare, Director of Student Activities,

Quail Hollow Elementary School, Ben Lomond, CA

---
Bob's concerts are a unique experience for the entire family to enjoy.The audience will become part of a performance that will will make them laugh, think, ponder and hopefully feel a little closer to those around them. A Bob Reid concert is an opportunity for families to share an afternoon or evening of connecting through song and story.

Performances run 60-90 minutes.
Back to top of page.

---

Children seem to naturally respond to his charismatic manner and upbeat sense of humor.

-Community Spirit Magazine

---
---

I can't find words good enough to describe what you do with and for children. You are to me mostly a poet who creates a rippling effect with words. Your songs have a poignancy and depth I don't find in most children's songs. Your songs appeal to a wide range of ages, enticing the very little ones, while satisfying the oldest in our school as well.

You are an incredible performer, but also a real teacher, one who knows when to be silly, when to be serious. How to control a group, sustain a relationship, organize an event, use time effectively. And you know how to use language to touch people in the most glorious way!


-Steve Peck, Principal, Santa Rita Elementary School, Los Altos, CA

---
A Bob Reid residency is a great opportunity for your students to experience Bob's unique mixture of fun and thoughfulness. A typical residency begins with assemblies to introduce Bob to the students and give them a taste of what is to come. This is followed by classroom workshops consisting of songwriting, stories, singing along, and singing rounds that will engage and delight students. Often the residency culminates with a community concert to allow families in the greater community to participate and for the students to sing songs they have written with Bob. Over the years, Bob has heard from many grown-up students how his music, presence and example have made a positive difference in their lives.

Residencies are tailored to each schools' needs. Typically, they are a week long, consisting of 5 classroom workshops per day. To arrange a residency, get more information, or school references, click here or the "Contact Bob" link at the bottom of each page.
---
Our exciting new program will involve Bob Reid writing songs with your students, setting up a portable digital recording studio at your school, and allowing students to participate in the creation of a Compact Disk recording. Bob will rehearse and record the students singing along with accompaniment which can be provided by him and students and any other musical resources that may present themselves. Listen to songs created in an October 2001 recording residency by clicking here.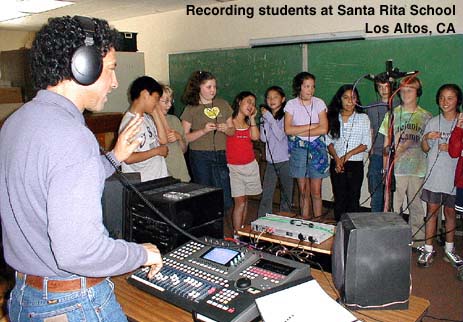 How a class creates a CD:
Like songwriting residencies, recording residencies begin with age-appropriate assemblies to introduce Bob and his work to the students and teachers.
Next, Bob will present songwriting sessions with grades three and up. Younger students may participate in singing with Bob and choosing songs that they would like to sing for the recording.
Songwriting takes place in two one-hour sessions for each class.
Bob creates an arrangement of each song, adding additional instruments such as drums, guitar, bass, harmonica, flute.
He creates a practice CD or cassette for the class to sing along with for rehearsal.
Next, Bob sets up his portable digital recording studio at the school. Listening to their rehearsal recording with headphones, Bob records the students singing their song. Recording sessions are usually 30-45 minutes.
Finally, Bob mixes and masters the recording and provides the master CD to the school. There are a number of possibilities for the final product. Each school can decide how to use the finished CD. It can be made available to students and their families for free or at production cost, make a copy for each classroom, for sale as a fundraiser. Bob retains full copyrights to any songs created in these workshops. The school will receive a master copy of the recording and may use it as they deem appropriate.
The program is structured so that students who wants a chance to sing solo, or with a friend/s has that opportunity.Teachers will have the responsibility for helping the students rehearse their songs. Prior to the class recording, Bob can work with interested students to arrange the instrumental tracks. This would be an opportunity for music teachers to give a practical application for their students and to give an opportunity to students willing to be involved. It may be possible to allow those students who desire it an opportunity for more involvement. There will be the possibility some students may work on some of the more technical parts of the recording, learning microphone placement, and explanations of how the recording process works.
Teacher responsibilities:
Scheduling appropriate sessions for classroom workshops, either songwriting or singing.
Bringing class to age-appropriate introductory assembly.
Rehearsing class song with recording supplied by Bob. Set aside a few minutes to turn on the recording and have the students sing along, twice a day or more, if possible.
Select your Class representatives
Facilitate your class representative's gathering of class information.
Schedule recording time
School is to supply:
Space to set up recording equipment. This can be variable. Ideally, it would be a carpeted room.
Schedule
Facilitation of after school sessions
Distribution of final product, if desired
Objectives:
Give students an opportunity to participate in a recording project.
To give interested students an opportunity for practical application of several skills: musical, artistic, literary, technical, and interpersonal.
To provide an opportunity for students to work in small groups to accomplish tasks.
To work as classroom groups to determine class message and to communicate that message.
To arrange a recording residency, for more information, or school references, click here or the "Contact Bob" link at the bottom of each page.